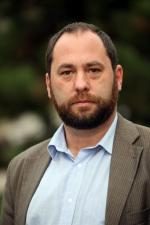 The chair of the Department of Philosophy and Bioethics
Born in 1967, got his doctorate at the Jagiellonian University in 1995 (thesis: "Problems in Philosophical Heuristics", in Polish) and habilitation in 2001 (thesis: "Techniques of Metaphilosophy", in Polish). He became full professor in 2008.
Author of several books (including collections of essays and students` handbooks) and dozens of newspapers articles. His major works in bioethics are "Short Studies in Bioethics" (2003, in English) and "Bioethics for physicians" (2008, 2011, in Polish). Apart from bioethics and general ethics Prof. Hartman writes in political philosophy and epistemology (metaphilosophy).
More information at the: www.iphils.uj.edu.pl/~j.hartman