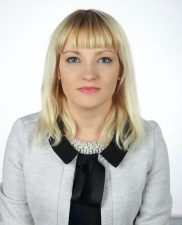 karolina.strzebonska@uj.edu.pl
PhD Candidate at the Faculty of Health Sciences at the Jagiellonian University Medical College and participant of the Jagiellonian Interdisciplinary PhD Programme.  
Post-graduate student of Bioethics at the Institute of Philosophy at the University of Warsaw.  
Member of REMEDY. 
Since 2019 member of Cochrane. 
In May 2020 Strzebonska received grant from National Science Center 'Ethics of research with human subjects in precision medicine'. 
https://www.ncn.gov.pl/sites/default/files/listy-rankingowe/2019-09-16/streszczenia/464084-en.pdf 
A graduate of the AGH University of Science and Technology. Spent four months on a research placement in a laboratory at i3S – Institute of Health Innovation and Research in Porto. 
 Her main interests are: research ethics, evidence-based medicine, basket and umbrella clinical trial designs. Her doctoral thesis concerns risk-benefit assessment in clinical trials in oncology. 
 Publications:
Wasylewski MT, Strzebonska K, Koperny M, Polak M, Kimmelman J, Waligora M (2020), Clinical development success rates and social value of pediatric Phase 1 trials in oncology, PLoS ONE 15(6): e0234911. doi: 10.1371/journal.pone.0234911
Strzebonska K, Wasylewski MT, Zaborowska L, Riedel N, Wieschowski S, Strech D, et al. Results dissemination of registered clinical trials across Polish academic institutions: a cross-sectional analysis. BMJ Open, 2020;10:e034666. doi: 10.1136/bmjopen-2019-034666
Strzebonska K, Waligora M. Umbrella and basket trials in oncology: ethical challenges. BMC Medical Ethics, 2019; 20:1-10. doi: https://doi.org/10.1186/s12910-019-0395-5
Strzebonska K, Waligora M. Underestimation of Harms in Phase I Trials. The Journal of Law, Medicine & Ethics, 2019; 47:334-335. doi: 10.1177/1073110519857290
Waligora M, Bala MM, Koperny M, Wasylewski MT, Strzebonska K, Jaeschke RR, Wozniak A, Piasecki J, Sliwka A, Mitus JW, Polak M, Nowis D, Fergusson D, Kimmelman J. Risk and surrogate benefit for pediatric Phase I trials in oncology: A systematic review with meta-analysis. PLOS Medicine, 2018; 15:e1002505. doi: 10.1371/journal.pmed.1002505
Waligora M, Strzebonska K, Wasylewski MT. Neither the harm principle nor the best interest standard should be applied to pediatric research. The American Journal of Bioethics, 2018; 18:72-74. doi: 10.1080/15265161.2018.1485762
Zhang Y, Morgan RL, Alonso-Coello P, Wiercioch W, Bała MM, Jaeschke RR, Styczeń K, Pardo-Hernandez H, Selva A, Begum HA, Morgano GP, Waligóra M, Agarwal A, Ventresca M, Strzebońska K, Wasylewski MT, Blanco-Silvente L, Kerth JL, Wang M, Zhang Y,Narsingam S, Fei Y, Guyatt G, Schünemann HJ. A systematic review of how patients value COPD outcomes. European Respiratory Journal, 2018; 52: 1800222. doi: 10.1183/13993003.00222-2018