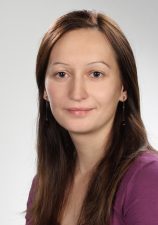 Ph.D., studied philosophy and literature at the University of Wrocław in Poland, philosophy at the University Jean Moulin Lyon 3 in France and Medical Law and Bioethics at the Jagiellonian University (Postgraduate Certificate in Bioethics and Medical Law). She obtained her doctorate in 2008 for her research on Maurice Merleau-Ponty's philosophy. She was a visiting fellow at the University Paris 1 Panthéon Sorbonne in France (2012, séjour de recherche, French Government Fellowship). In 2015 she participated in SKILLS-Coaching, a program financed by the Foundation for Polish Science.
Since 2008 she has been working at the Department of Philosophy and Bioethics at Jagiellonian University, Medical College. In her work, she focuses mainly on the philosophy of death and dying, thanatology, palliative care, French philosophy and bioethics.
Selected publications
Parental Autonomy in the Light of Hope in Pediatric Palliative Care. In Approaches to Death and Dying: Bioethical and Cultural Perspectives, ed. Marta Szabat, Jan Piasecki, Jagiellonian University Press, Kraków 2021, pp.79-90.
Marta Szabat & Jeanette Bresson Ladegaard Knox, Shades of hope: Marcel's notion of hope in end‑of‑life care, "Medicine, Health Care and Philosophy" 2021
Parental experience of hope in pediatric palliative care: Critical reflections on an exemplar of parents of a child with trisomy 18, "Nursing Inquiry" 2020. DOI: 10.1111/nin.12341
Autonomous responsibility within the framework of James Griffin's concept of personhood, [in:] Solidarity in Open Societies, Jörg Althammer, Bernhard Neumärker, Ursula Nothelle-Wildfeuer (ed.), Springer, VS Verlag für Sozialwissenschaften, 2019, pp.121-131.
Truth and Lie – Normative Levels of Culture, [in:] "Cultural Normativity. Between Philosophical Apriority and Social Practice", Maria Gołębiewska (ed.), Peter Lang Edition, Frankfurt am Main, Berlin, Bern, Bruxelles, New York, Oxford, Wien, 2017, pp. 71-81.
Ethical language as an alternative to phenomenology, "The International Journal of Civic, Political, and Community Studies" 2014, vol. 12, pp. 54-62.
Review of Taylor Carman's book Merleau-Ponty,"Polish Journal of Philosophy" 2010, vol. 4(1), pp. 168-171.