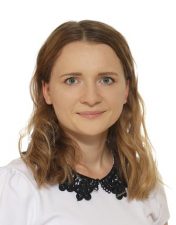 Master of Pharmacy. Research assistant.
Currently working on the project "Patient-centered? Bioethics of adaptive design in clinical trials".
A member of REMEDY team. PhD student at the Doctoral School of Medical Sciences and Health Sciences at the Jagiellonian University Medical College.
In 2018 she was awarded the Scholarship of Ministry of Science and Higher Education for outstanding achievements during her studies.
Research keywords:
Drug Discovery and Development, Clinical Trials Methodology, Evidence-Based Medicine
Publications:
Klas K, Strzebonska K, Waligora M. Ethical challenges of clinical trials with a repurposed drug in outbreaks Med Health Care and Philos (2023). doi.org/10.1007/s11019-023-10140-4
Hutchinson N, Klas K, Carlisle BG, Polak M, Kimmelman J, Waligora M. Competition for recruitment in SARS-CoV-2 Trials in the United States: a longitudinal cohort analysis. BMC Res Notes 15, 368 (2022). doi.org/10.1186/s13104-022-06263-1
Hutchinson N, Klas K, Carlisle BG, Kimmelman J, Waligora M. How informative were early SARS-CoV-2 treatment and prevention trials? a longitudinal cohort analysis of trials registered on ClinicalTrials.gov. PLoS One. 2022;17(1):e0262114.
Waligora M., & Klas K. (2022). Masking. In B. Frey (Ed.), The SAGE encyclopedia of research design (Vol. 1, pp. 860-861). SAGE Publications, Inc.
Koczurkiewicz-Adamczyk P, Klaś K, Gunia-Krzyżak A, et al. Cinnamic Acid Derivatives as Cardioprotective Agents against Oxidative and Structural Damage Induced by Doxorubicin. Int J Mol Sci. 2021;22(12):6217.
Koczurkiewicz P, Klaś K, Grabowska K, et al. Saponins as chemosensitizing substances that improve effectiveness and selectivity of anticancer drug-Minireview of in vitro studies. Phytother Res. 2019;33(9):2141-2151.
Klaś K, Guzy P, Piska K, et al. The application of in vitro models in a preclinical safety evaluation of new drug candidates. Farm Pol. 2018; 74(1): 45-51.